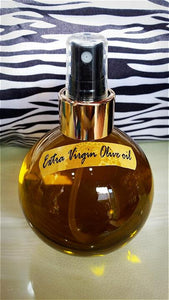 Extra Virgin Olive Oil
Regular price $4.00 USD Sale
Benefits of Olive Oil for Hair Growth
Olive oil has long been used as a great way to promote skin health. It also helps the skin of your scalp, and that can in turn boost the health of your hair. Olive oil, as part of a regular hair care regimen, can help your hair and scalp reach their healthiest potential. Make olive oil for hair growth a regular priority in your hair care. Here are just a few things that olive oil can do:
Prevent DTH Hormones Production. A hormone called DTH is the culprit in many cases of hair loss, as it causes the hair follicle shaft to narrow. Olive oil actually stops this from happening, which means you can hold onto your hair for longer.
Promote Scalp Health. Olive oil is loaded with antioxidants, which can keep the skin of your scalp in better shape. It can even reduce the damage done by hair care products or overuse of styling products.
Naturally Condition the Hair. Olive oil can make your hair shiny and soft. That's why it has been used for centuries as a natural hair conditioner.
Fight off Fungi and Bacteria. Dandruff, head lice and other adverse conditions can contribute to hair loss. Fortunately, olive oil fights off all of these things, helping keep your hair healthier.
Improve Blood Circulation. Olive oil massages can improve the blood circulation in your scalp. This increased blood flow can stimulate the follicles, which then produce thicker strands.