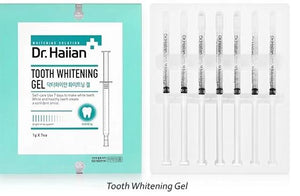 DR. HAIIAN 7 DAYS MIRACLE (1G*7EA) 1 PACK / TOOTH WHITENING GELS
Regular price $49.99 USD $19.99 USD Sale
Now you can easily try the whitening at your home with this Dr. Haiian
– 7 Days Miracle Whitening Gel Kits.
- How to use
1 unit is for 2 times amounts (Morning and Night).
1. Please brush your teeth.
2. Dry the teeth, please apply half of the gel on the surface of the tooth.
Please do not apply on lips or gums.
3. Keep open your mouth and dry the gel 1-2 minutes.
4. Please wait 30 minutes to 1 hour without washing off the gel.
Please avoid food and drink during this time.
5. After 1 hour, please wash off your mouth with gargle or brushing teeth.
Please do these steps a day morning and evening (twice),
continued for a total of 7 days.
*CAUTION!*
Persons who correspond to the followings must not use this product.
The person who is sensitive to peroxide.
The person who has not healthy mouth such as oral infection, wound, gum disease, tooth that smarts, etc. or who has not healthy body
Children under 14, pregnant women or breast-feeding moms (There is nothing better than right brushing habit for the children)