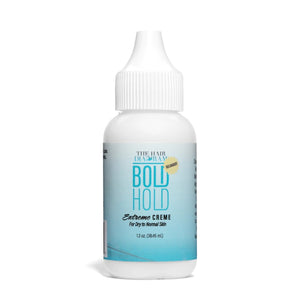 Bold Hold Extreme Creme For Dry to Normal Skin
Regular price $29.99 USD Sale
Designed with humidity-resistant properties to provide a lightweight, superior, lasting hold for lace front wigs and hair systems without damaging the lace or edges. 
These unique water-based lace adhesives go on white and dry clear for a strong invisible bond that will last from 2-3 weeks. 
Odorless, skin-friendly formulas made with non-toxic, latex-free ingredients safe for scalps when applied by a licensed cosmetologist.  To remove safely, use Bold Hold Lace Remover.
Products made with skin- and scalp-friendly non-toxic ingredients that are safe for all skin types.  
Water -based styling agents and lace glue that hold up to your real life. 
Lightweight formulations dry clear, for strong invisible bonding that looks and feels natural. 
Non-damaging wig glues keep your lace and edges in perfect condition. 
Water-resistant adhesives resist humidity for a longer lasting hold. 
Our products are created for better, seamless application at home or by a licensed cosmetologist. 
Removal made simple and painless. Remove adhesives with Bold Hold Lace Remover and water.